Programs by Topic: Arts | Creativity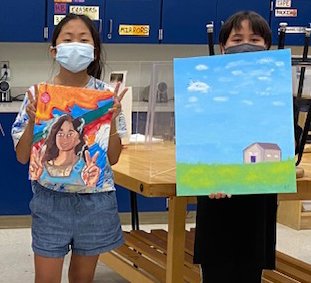 Arts, Creativity and Theater classes are designed to foster creativity and imagination! Classes are taught by artists and instructors who have the passion and commitment to promote all forms of creative expression.

Acrylic Painting Studio [entering 6-9] Learn, practice, and experiment in the fine arts in this studio class. Explore "the Masters," create still-life and line drawings and then move on to painting with acrylics. Learn more about color theory, color mixing, and painting techniques from observation.
Actors Studio [entering 5-9] Learn the foundations of acting techniques from the masters' playbook. We will warm up using various techniques and discover the freedom and joy of acting through theatrical play, scene work, and monologues.
Ceramics Studio [entering 6-12] Join us in the professionally equipped Staples studio where beginner and experienced students alike can explore techniques with clay through handbuilding, sculpture, and wheel thrown pieces. Experiment with texture and manipulating forms, as well as glazing and decorating techniques.

Create-a-Comic/Graphic Novels [grades 3-6] Let your imagination guide the way to make your ideas into super fun comics and/or graphic novels! Learn the skills and techniques to develop your own style. Craft a spellbinding storyline and then add your characters and captions, finishing with ink or color for your very own comic strip.
Sew with a Pro [entering grades 7-12] Fashion Designer Jennifer Butler will be leaving her studio and showroom in Greenfield Hill, Fairfield for a week of teaching at Staples High School! Learn to make what YOU want-using provided fabrics or bring in your own materials to make your design dreams a reality.