Weaving the World 165
Weaving the World
Sessions:
6
Dates:
1/26/2021 to 3/9/2021
Grades:
2, 3, 4, 5
Location: Instructor:
Meeting Times
Tuesday 4:30 PM - 6:00 PM
---
Description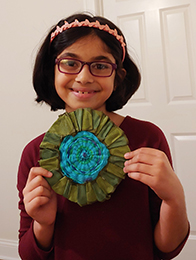 Discover how humans learned to weave through fascinating multicultural stories inspired by a spider's web or a bird's woven nest. Explore weaving techniques starting with flat paper designs. Move on to weaving yarn with a small loom that kids can continue to use and build on their skills and practice. Continue with basket weaving, incorporating beads and ribbons to create your own colorful basket. The price includes a non-refundable fee of $5 per week for supplies.
Susan is also teaching February Vacation workshops online!
Additional Notes
no class 2/16