CT Juniors Volleyball for Girls 551a (Grades 4-6)
CT Juniors Volleyball for Girls
Sessions:
8
Dates:
9/18/2022 to 11/20/2022
Grades:
4, 5, 6
Location: Instructor:
Meeting Times
---
Description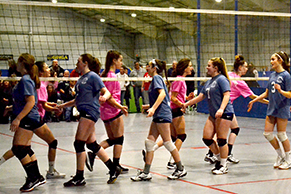 CT Juniors Volleyball is one of the most respected volleyball development programs in the East. Founded by Tyson Krause, an internationally certified coach and 2003 inductee into the Connecticut High School Volleyball Hall of Fame, CT Juniors is modeled after the most successful California juniors programs: designed to build skills, committed to coaches, players, and parents, and structured to enable players to form friendships, prepare for high school play, and become leaders, both on and off the court.
Extra Effort: Level 1 [grades 4-6] Lower net program focused on fun, fundamentals, and basic skills: passing, serving, setting, approach, arm swing, rotation and rules. No previous experience necessary.
Extra Effort: Level 2 [grades 6-8] Women's regulation height net program focused on advancing skills, including: serve receive, offensive and defensive positions, digging, blocking, approach-jump-hit, emergency drills, and combination movements. 6th graders must have completed at least one previous CT Juniors program.
Note: Registration is now closed.