Programs by Topic: WCE Sports & Fun Camps / BEDFORD MIDDLE SCHOOL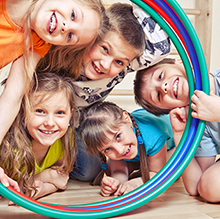 Sports & Fun Camp [grades 1–5]
This is no ordinary "sports" camp! Of course we'll have high energy sports, your favorite games, and team building every day, plus fun challenges like trivia, scavenger hunts, and a raffle to win prizes. Outdoor fun includes water games like balloon toss, magic beads, and more. The day includes games and sports utilizing the awesome features of Bedford's state-of-the-art gym, like rock-climbing and digital wall games. Kids will also enjoy an (optional) Talent Show, movie day, arts and crafts, bricks and board games. Throughout the week, campers engage in active play that reinforces teamwork and promotes confidence and self-esteem. The morning also includes optional swim time in the Olympic-sized pool at Staples High School.
Full-Day Camp: 8:30 am - 3:30 pm
Half Day Morning Camp: 8:30 am - 11:45 am
Sarah Bawwab will be the head counselor this year. She has her undergraduate degree in Exercise Science from Southern Connecticut State University. She's worked with children for 14 years.
Jake Sullivan will be the assistant head counselor. He is currently the Grade-Level Assistant for the class of 2024 at Staples High School. He is also the head Junior Varsity Boys Basketball Coach at Staples, and has been coaching at Staples since 2019. In addition to coaching at the high school level, Jake coaches youth AAU basketball year-round for PHD, and has several years of experience working youth sports camps at Wakeman Boys and Girls Club in Southport, CT.