Programs by Topic: Discovery Camp Morning: 8:30 am-12:30 pm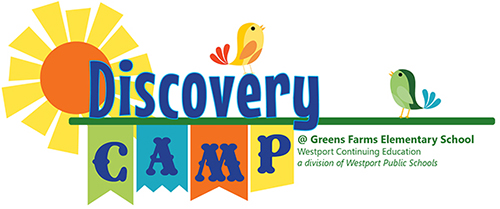 It's time to create, explore, play, and discover!
Discovery Camp at Greens Farms Elementary School offers weekly camps filled with engaging activities including arts and crafts, scavenger hunts, STEM projects, and plenty of outdoor play! We also learn more about each other and our community. Led by our talented and terrific teachers, age-appropriate activities foster creativity, skills development, problem-solving, and teamwork. The daily schedule includes challenges and icebreakers that promote collaboration and building friendships. We strive to support the Contributing Citizens initiative to prepare students to reach their full potential as Communicators, Critical Thinkers, Collaborators, and Creators!

Be sure to check out our Discovery Camp afternoon programs
Art | All the World's a Stage | Basketball | Build with Ricky | Citizen Invention | Game Time! | STEM

Chartwells, the Westport Public Schools' Dining Services, will offer delivered boxed lunches to Greens Farms Elementary School! Use this link to order lunches.