Programs by Grade: 9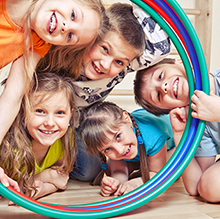 Sports + Fun Camp [grades 1–5]
High energy kids will love this camp featuring a variety of fun, engaging activities, sports, and games. Hosted in the state-of-the-art gym at Bedford Middle School, the day includes structured games and sports with plenty of time outside.

Sports Fusion [grades 6–9]
Stay active this summer with a variety of sports, games, fun, and friendships at Staples High School! Kids engage in different fitness-related activities and sports including archery, badminton, soccer, volleyball, tennis, and the traverse wall. Kids will get all of the benefits of these fun activities while increasing stamina, reducing stress, working as a team, and building a healthy self-esteem!