Programs by Grade: 2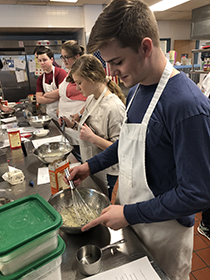 Culinary Arts [entering 6–9]
This year we are back in the professional kitchens at Staples High School. We've added an entire baking program into each week, new journeys, and new recipes to our daily adventure! Join us for one week or all four and find your favorite special dishes or baked goods.


Class is Full: Waiting List Available
Sessions:
5
Dates:
7/19 to 7/23
Times:
Mo 9 am -12 pm
Tu 9 am -12 pm
We 9 am -12 pm
Th 9 am -12 pm
Fr 9 am -12 pm

Grades
1,2,3,4,5
Register for this class
Class is Full: Waiting List Available
Sessions:
5
Dates:
7/12 to 7/16
Times:
Mo 12:30-3:30 pm
Tu 12:30-3:30 pm
We 12:30-3:30 pm
Th 12:30-3:30 pm
Fr 12:30-3:30 pm

Grades
1,2,3,4,5
Register for this class
Class is Full: Waiting List Available
Sessions:
5
Dates:
6/28 to 7/2
Times:
Mo 12:30-3:30 pm
Tu 12:30-3:30 pm
We 12:30-3:30 pm
Th 12:30-3:30 pm
Fr 12:30-3:30 pm

Grades
1,2,3,4,5
Register for this class