Programs by Grade: 2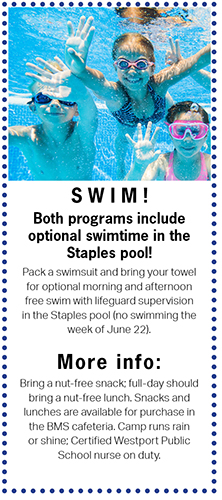 All-Stars Sports & Fitness Camp @Staples High School | Entering grades 6–9
Weekly Sessions: July 13–August 7
Designed for students and athletes who want to stay active this summer! Learn how to stay safe and healthy through exercise, proper movements and nutrition. Beat the clock in fun activities including a fitness obstacle course, relay races and other challenges.
Sports & Fun Camp @Bedford Middle School | Entering grades 1–8
Weekly Sessions: June 22–July 10 | Entering grades 1–8
Weekly Sessions: July 13–August 7| Entering grades 1–5
High energy kids will love this camp featuring structured gym games, a variety of sports and engaging activities from physical education. Hosted in the state-of-the-art gym at Bedford Middle School, a typical day starts with casual games, warm-ups and free play with transitions into structured games or sports utilizing the awesome features of the school gym.
Both Programs
All-Day: 8:30 am - 3:30 pm | $339 / week | June 29–July 2: $275
Morning: 8:30 am - 12:00 pm | $170 / week | June 29–July 2: $140
Afternoon: 12:00 pm - 3:30 pm | $170 / week | June 29–July 2: $140