Tennis at Saugatuck School (Grades 1-5)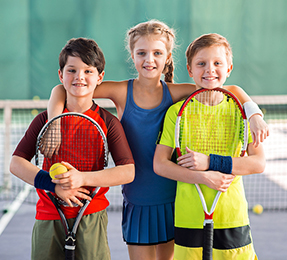 Get on the court and get the balls rolling! Kids learn everything they need to enjoy tennis, including rules, handling the ball, footwork, strokes, strategy, court etiquette, and more. Help your child improve important physical skills like eye-hand coordination, agility, and fine and gross motor control.
Enrollment is limited low and this means that your child will receive personalized attention and the opportunity to hit hundreds of balls. It's the perfect place to fall in love with the sport of kings (and queens). Please bring a racquet; contact us if you have a question as to what racquet would be best for your child.
Location: PJ Romano Fields / Saugatuck Elementary School parking lot
Please read the COVID guidelines here >>
Sessions:
5
Dates:
5/12 to 6/9
Times:
We 4:15-5:15 pm

Grades
1,2
Location:
Saugatuck Elementary School
Instructors:
Register for this class
Sessions:
5
Dates:
5/13 to 6/10
Times:
Th 5:30-6:30 pm

Grades
3,4,5
Location:
Saugatuck Elementary School
Instructors:
Register for this class